I had a customer (and pretty good friend) contact me to put a phrase she loved on an old window frame she got at a flea market. Chipped white paint and all, it was love at first sight for me...
She told me the type of font she was looking for and the phrase. It was pretty easy to select the perfect font for her. We went with P22 Cezanne; very old world and romantic. It only took about 15 minutes to install it on the glass. She loved it and personally, I think it turned out perfectly.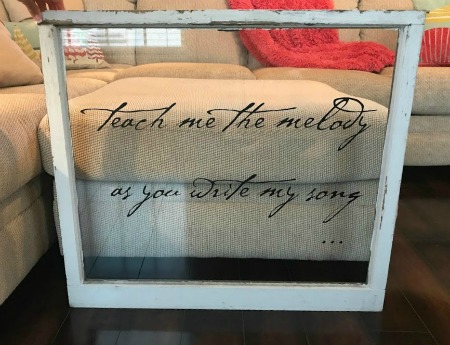 She said she is going to add a few of those decorative drawer knobs to the bottom and hang it in her bedroom.
This is just proof that you can turn something inexpensive and not so pretty... into something super cute and 100% YOU with a little vinyl! You know what they say... one (wo)man's junk is another (wo)man's treasure!
Contact us (here) for your custom project.
And create a beautiful day!
Jackie